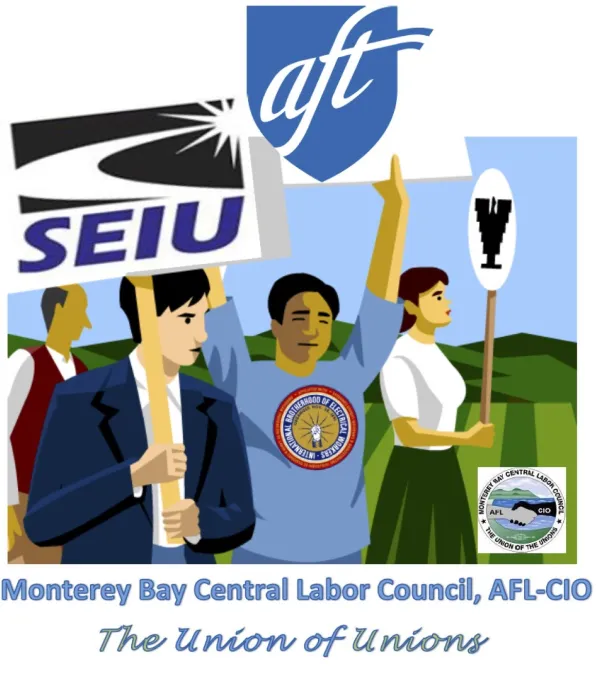 Staff:
Cesar Lara, Executive Director: 831-444-5060 email

Teresa Barrera, Outreach/Services Coordinator: 831-262-2502 

email
Francisco Rodriguez

, Resident Leadership Academy Coordinator: 831-254-4916 

email
General Office line: 831-422-4626
General E-mail: laborcouncil@mbclc.org
OUR EXECUTIVE BOARD
Our executive board serves our affiliated unions and central body of the Labor Council. It is currently comprised of 15 union leaders from various international unions. The diversity of our board ensures that the Labor Council represents the interests of workers from all sectors
2022-2024 MBCLC Officers:
Daniel Dodge Sr., President
CCFT - CFT 4400
Jeffrey Smedberg, Executive VP
SEIU 521                                                           
Francisco Rodriguez, Secretary-Treasurer    
AFT 1936 PVFT                                            
Sandra Martinez, VP - Monterey Co.                         
California Nurses Association (CNA)
James Sandoval, VP - Santa Cruz Co. 
SMART 0023 UTU
Trustees:
Rebecca Rangel Hadley, Trustee                                               
CSEA Ch. 35 MCOE                                           
Tony Uzzle, Trustee
Carpenters 605 
Rod Smalley, Trustee                            
Operating Engineers 3 
At-Large Seats: 
Joe Williams,  Member-at-Large                                      
SEIU UHW                                              
Ray Montemayor, Member-at-Large
SEIU 521
Efrain Aguilera, Member-at-Large                            
UFCW 5
Kristin  Bitler, Member-at-Large
CSEA Ch. 35 MCOE                                           
Casey Van Den Heuvel, Member-at-Large
SMART 104
Oscar Ramos, Member-at-Large
Salinas City Elementary, CTA 
Vicente Vega, Member-at-Large
SEIU 2015